Latest News from the Bradford Textile Society.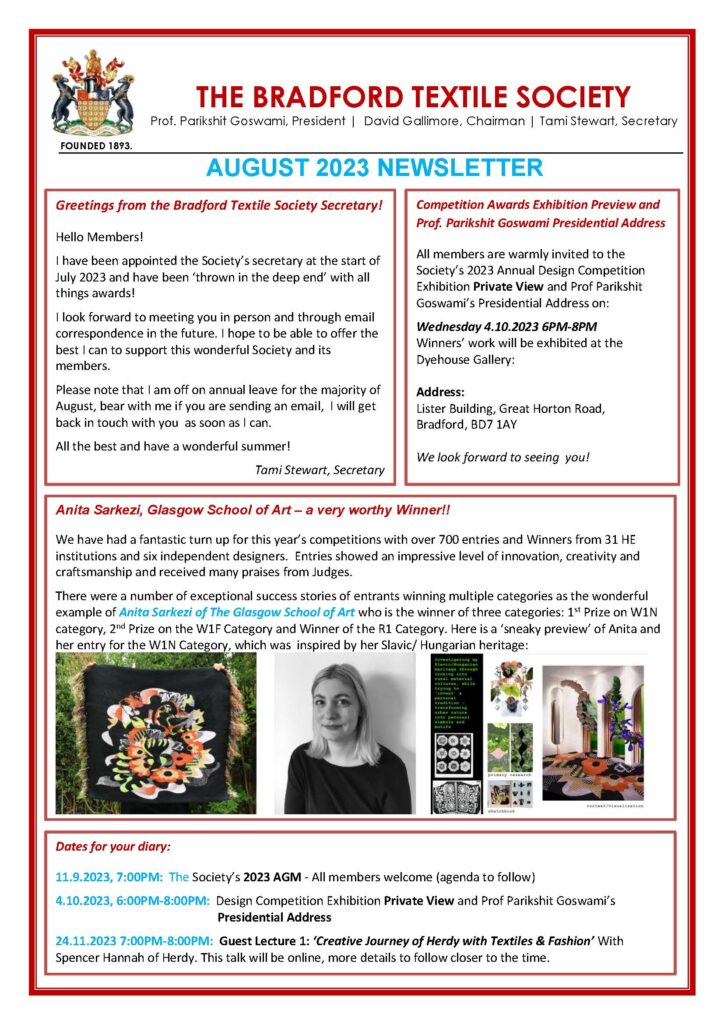 Chairman's Report to the Bradford Textile Society AGM 2022
During 2021/2 the effects of Covid have still been with us and are continuing to impact all areas of the Society's activities. In such a challenging environment we were very lucky that Caroline Hodgson agreed to continue for another year as President and arranged an enlightening programme of talks. Yet again it was deemed appropriate to conduct these solely online as webinars and, despite this creating a huge extra burden on Caroline, Sue and Vivienne, they were a huge success. It is hoped to soon return to the physical meetings that are popular with local members, but we have funding from CIWMT to simultaneously broadcast as a webinar to those who cannot attend especially students.
Speakers for the year were:
Katie Greenyer and Dr. Mark Sumner
Becky Gordon; Sustainability at Interface
Mary-Ann Dunkley; Liberty Fabrics
Lesley Prior and Peter Ackroyd in conjunction with the Worshipful Company of Woolmen
Yet again the annual dinner was cancelled, and we shall have to consider whether these continue in the future and if there is support for them from the members.
The design competition continued in its online format although this year entries were down. We know that student numbers on textile courses have been badly affected but need to do more research into whether this is solely the reason for the drop in entries. The additional work involved with the competition being online has seriously increased the workload on Sue and I know that it is with a heavy heart that she has decided to step down from the role of Secretary.
This year we sadly lost one of the Society's greatest supporter and friend in Barry Whitaker. His contribution to BTS over the years was immense and he will be greatly missed.
Next year we have a new President in Professor Parik Goswami who I am sure is going to be introduced elsewhere during this AGM and also this will be my last report to the meeting as David Gallimore takes over as Chairman of the Society.
21st December:
We have today uploaded the pictures to our Gallery from the 125th Anniversary celebration dinner held at the Midland Hotel Bradford in November 2018
Please click HERE to visit the Gallery