Welcome to Britain's Premier Textile Society
Established in 1893, the Bradford Textile Society is the oldest textile society in Britain, if not in the world. Despite all the changes which have taken place in the textile industry since its formation, the Society continues to thrive. Its monthly programme of meetings from October to April provides an opportunity for everyone with an interest in textiles to meet and discuss a range of textile-related topics with an invited speaker.
President – Professor Parik Goswami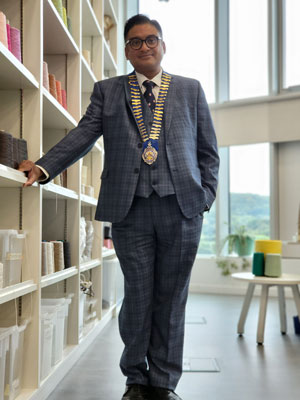 Professor Goswami is the Head of the Department of Music and Design Arts at the University of Huddersfield. The portfolio includes three subject areas- Fashion and Textiles, Visual Arts, Music and Music Technology. Music, for example, is ranked 25th in the QS world ranking and 1st for NSS.
Before joining the University of Huddersfield, Professor Goswami was the Director of Research and Innovation at the School of Design at the University of Leeds and led the Fibre and Fabric Functionalisation Research group at Leeds. He is a member of the Society of Dyers and Colourists (SDC), Education, Qualifications and Accreditation Board (EQAB), a trustee of SDC, and was a member of EDANA's R & D Working Group.
Professor Goswami is also the first academic appointed to the UK Fashion and Textile Association (UKFT) board. He is also a member of the high-profile advisory board for Textiles 2030, a national agreement led by WRAP, a global Non-Governmental Organisation (NGO) based in the UK that works with governments, businesses and individuals to ensure that the world's natural resources are used sustainably. The Textile 2030 advisory board includes national policymakers, online and high street retailers, charitable organisations, technical experts and members of trade associations.
Professor Goswami was admitted to Freedom of London and became a liveryman for the Worshipful Company of Woolmen.
Design Competition
The Society's annual Design Competition, with total prize money of over £14,500, is unique in its breadth of coverage and attracts over 1,000 entries from students throughout the UK.
Please visit the design competition page for more information.