The Society likes to hear news from all its Design Competition entrants. Please feel free to email your story to us so that we may share your achievements on our website.
Photos of Millie Rothera from Leeds Arts University, winner of the British Wool Rug Design section of the 2018-2019 Bradford Textile Society Design Competition with Trevor Richards, Chairman of British Wool. .
Millie's prize was to have her design made up into a rug (courtesy of British Wool and the Alternative Flooring Company) and experience the process of manufacturing it. The photos show Millie visiting British Wool at Bradford to see the raw material – wool in the first stage of the process and the end product when she receives her rug at the Rug and Carpet Awards in Harrogate last month.
Congratulations and well done to Millie.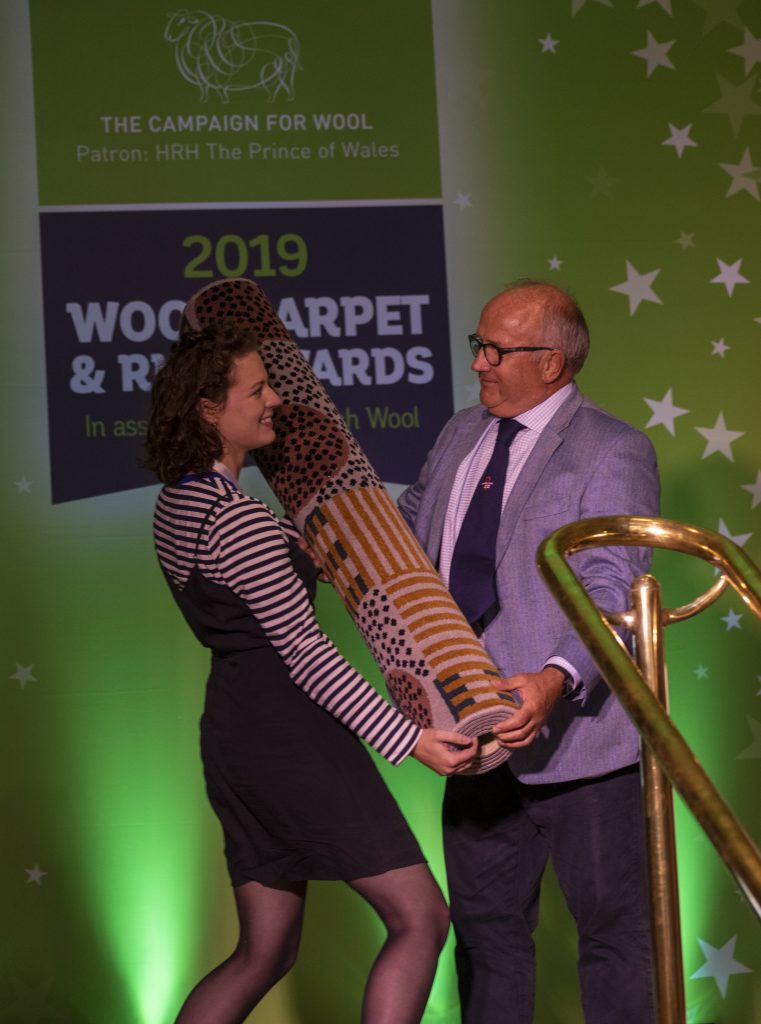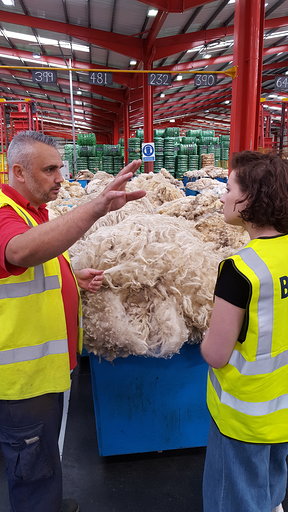 Maddie Sellers – Winner of the Wool Special Award (The Company of Merchants of the Staple of England) and Commendation in K1(Clothworkers' Company) – has shared with us news of her recent successes:
"I just thought I would let you know how Pitti Filati went. I am pleased to say that I was one of the winners and was awarded a prize by Liu Jo, an Italian fashion brand. I begin an internship with them beginning in September, in Carpi, Italy which I am really looking forward to.
Whilst at Pitti, I was also chosen for TexSelect which is a UK based charity that 'mentors and promotes the UK's most talented newly graduate textile designers.' Part of this includes an opportunity to show my work at Première Vision in Paris in September.
Entering The Bradford Textile Society Design Competition and winning the Wool Special award boosted my confidence in myself and my work, which led me to apply for these other competitions. I would like to say a big thank you to you and your organisation.
Please see images attached of the knitted outfit that won a prize at Pitti Filati." (images courtesy of Pitti Immagine Filati: Feel the Yarn The X Contest).

Well done to Maddie, we wish her every success with her internship and exhibition at Premiere Vision.