Welcome to Britain's Premier Textile Society
Established in 1893, the Bradford Textile Society is the oldest textile society in Britain, if not in the world. Despite all the changes which have taken place in the textile industry since its formation, the Society continues to thrive. Its monthly programme of meetings from October to April provides an opportunity for everyone with an interest in textiles to meet and discuss a range of textile-related topics with an invited speaker.
Design Competition 2016 - 2017 Results
The results of the 2016 - 2017 Bradford Textile Society Design Competiton are now available to view on the Design Competition winners page.
Design Seminar & Awards Ceremony
The Design Seminar and Awards Ceremony will be held on Friday 5th May 2017 at the Dye House Gallery, Bradford College, Carlton Street, Bradford, BD7 1AY.
There will be a presentation by Laura Slater, a Yorkshire-based Textile Artist/Designer-Maker whose colourful, abstract textiles are seen in high-end retail stores and contemporary craft fairs.
Laura studied Textile Design at Loughborough and the Royal College of Art. Following graduation from The RCA she established her design studio and print workshop in 'The Art House' in Wakefield in 2007.

This has developed into a highly successful business with prestigious collaborations, including Heals, Harvey Nichols, John Lewis and Bon Marche in Paris. Laura produces stunning prints for everyday use within the home. Interested in the engagement with pattern and its ability to connect us to the environment, these are explored through her translation of drawing to the hand–printed process.
Download the Design Seminar information sheet here
Download the Design Seminar Programme here
Download the Design Seminar Booking Form here
President - Pam Brook, MA, FRSA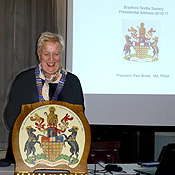 Pam Brook is currently Head of School at Bradford School of Art and is undertaking a PhD at Nottingham Trent University in the Fashion and Textile department. Pam has been a council member of the Bradford Textile Society for almost 5 years and Bradford School of Art also has a student member of Council from our Textile Design degree who contributes to proceedings. Her aim in the Presidency is to support advances in Design and Technology that are impacting on the Textile and Apparel industries. Pam has attended Westminster Forums looking at future directions in these industries from the point of view of an educationalist and is very interested in the progress that is being made in Universities, Colleges and industry.
Pam is an historian interested also in the past as well as the future and hopes that her programme of events reflects these concerns.
Pam worked in the Textile industry for George Hattersley/Hattersley Narrow Fabrics for 3 years prior to taking up a temporary post as a lecturer at Bradford College. She has worked with Further Education students in Bradford, Leeds and Keighley Colleges and more recently with Higher Education at Bradford College. Her aim as President is to strengthen the links between Bradford Textile Society and Bradford College/School of Art working with the College's Textile Archive and other initiatives such as using college premises to host the Design Seminar and Exhibition.
Design Competition
The Society's annual Design Competition, with total prize money of over £10,000, is unique in its breadth of coverage and attracts almost 1,000 entries from students throughout the UK.
Please visit the design competition page for more information.