Welcome to Britain's Premier Textile Society
Established in 1893, the Bradford Textile Society is the oldest textile society in Britain, if not in the world. Despite all the changes which have taken place in the textile industry since its formation, the Society continues to thrive. Its monthly programme of meetings from October to April provides an opportunity for everyone with an interest in textiles to meet and discuss a range of textile-related topics with an invited speaker.
President - Pam Brook, MA, FRSA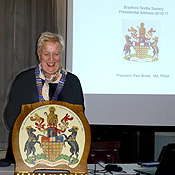 Pam Brook is currently Head of School at Bradford School of Art and is undertaking a PhD at Nottingham Trent University in the Fashion and Textile department. Pam has been a council member of the Bradford Textile Society for almost 5 years and Bradford School of Art also has a student member of Council from our Textile Design degree who contributes to proceedings. Her aim in the Presidency is to support advances in Design and Technology that are impacting on the Textile and Apparel industries. Pam has attended Westminster Forums looking at future directions in these industries from the point of view of an educationalist and is very interested in the progress that is being made in Universities, Colleges and industry.
Pam is an historian interested also in the past as well as the future and hopes that her programme of events reflects these concerns.
Pam worked in the Textile industry for George Hattersley/Hattersley Narrow Fabrics for 3 years prior to taking up a temporary post as a lecturer at Bradford College. She has worked with Further Education students in Bradford, Leeds and Keighley Colleges and more recently with Higher Education at Bradford College. Her aim as President is to strengthen the links between Bradford Textile Society and Bradford College/School of Art working with the College's Textile Archive and other initiatives such as using college premises to host the Design Seminar and Exhibition.
Design Competition 2016 - 2017
Details of the 2016 - 2017 Bradford Textile Society Design Competiton are now available for download.
Please follow the You Tube link to view BBC Look North TV coverage of the 2015 - 2016 Design Competition exhibition: https://youtu.be/5WPbWaTVE80
Important reminder - please read the latest information on the Design Competition page.
Download the 2016-17 prospectus pack here
As in previous years the British Wool Marketing Board has kindly agreed to supply wool for entries to the Design Competition - Section B1.
If you would like to receive a box of samples from the BWMB to help you make a selection for your entry, please email Haldi Kranich-Wood (haldikw@britishwool.org.uk) to arrange this.
In response to recent enquiries on yarns for Section B1.
All yarns supplied by the British Wool Marketing Board (BWMB) this year are undyed. Entrants may explore dyeing techniques, if they so wish, or work with the beautiful, natural colours supplied.
The yarns supplied may also be mixed with British wool yarns sourced independently, in which case, your Technical Notes must detail these yarns and provide reference to the ball bands or cone labels to confirm that the yarns are British wool.
A maximum of 20% of other materials (which are not 100% British Wool) may be used to enhance the design technically.
Design Competition
The Society's annual Design Competition, with total prize money of over £10,000, is unique in its breadth of coverage and attracts almost 1,000 entries from students throughout the UK.
Please visit the design competition page for more information.